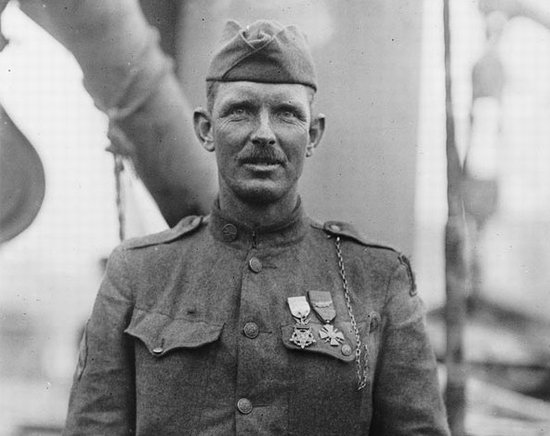 The Art of Manliness is featuring a story today about Alvin C. York and his process of decision-making. The article is a little long, but it is worth reading the first portion, a biography of York.
York was one of the most decorated soldiers of World War I. In a span of three hours, he "nearly single-handedly killed 20 of the enemy, silenced 35 machine guns, captured 3 officers and 129 enlisted men, and broke up a battalion that was about to launch a counterattack against the Americans on Hill 223."
His is a compelling story that shows the power of grace to change a life. A few excerpts:
When York was 24, his father died, and with his two older brothers married and moved away, Alvin became the new head of the household. He embraced his responsibility to care for his mother and eight remaining siblings, and took jobs farming, smithing, and building roads to provide for them. But without his father's watchful and loving influence, York soon developed some rebellious new habits. He started smoking, gambling, swearing, and drinking – chugging bottles of moonshine with a new crowd of rough associates. He spent most days of the week visiting ramshackle saloons where he often got into fights with the other patrons. He was hauled into court for shooting a neighbor's turkeys for sport and selling weapons illegally. He embarrassed his family by shooting up a tree outside the local church while services were being held and stumbling drunk and belligerent through a community picnic.
After his mother confronted his sin and reminded him of his faith heritage, his life changed dramatically.
"Mother," Alvin began, "I promise you tonight that I will never drink again as long as I live. I will never smoke or chew again. I will never gamble again. I will never cuss or fight again. I will live the life God wants me to live." It was just past midnight on New Year's Day, 1915, and Alvin York had begun a brand new chapter in his life.

Determined to walk the straight and narrow, York confessed his sins and was saved at a revival meeting weeks later. He threw himself into his new Christian faith with a convert's zeal – making good on his promise to clean up his life, studying the Bible as often as he could, and admonishing his neighbors to live more piously. He joined a new church – the Church of Christ in Christian Union — and became the congregation's elder, song leader, and Sunday school teacher.
Eventually, York is going to be drafted, but his Christian convictions give him great pause. He begins the process of being declared a conscientious objector while starting boot camp. His struggle was rooted in his heart's desire to follow God's will.
Finally, York decided to seek his answer in complete solitude. He climbed through the mountains to a favorite spot – a rock ledge which sat between two boulders, and offered a view of the entire valley and its winding river. It was here he had pondered his faith and future many times before, and it was here he was determined to get an answer to his question once and for all. Under a canopy of trees and blue sky, he thought over the scriptures that seemed to condone or condemn earthly violence, and he pondered whether God could use war for a greater good — as a violent means to a more peaceful end. Could war be a tool of the peacemaker?
Obviously, York eventually went to war. And not only did he go, he became a hero.
Really, I encourage you to check it out. It's worth the read.